Projects
Aims at increasing opportunity and access to minimum/basic education by identifying areas that need to be renovated and built primary school building and its facility in the following areas:
List of schools to construct the new building for year 2018
No.
Capital/Province
District
Commune
Village
School Name
Building
Amount*
Level
Others
Unit
Room
1
Mondul Kiri
Saen Monourom
Saen Monourom
Pu Lam
Pu La Primary
1
5
1m
2
Mondul Kiri
Kaev Seima
Srae Khtum
Srae Ambel
Srae Ambel Primary
1
5
1m
3
Mondul Kiri
Kaev Seima
Srae Khtum
Chhnaeng Khnong
Chhnaeng Khnong Primary
1
5
1m
4
Mondul Kiri
Kaev Seima
Srae Preah
Ou Chra
Ou Chra Primary
1
5
1m
5
Ratanak Kiri
Ou Ya Dav
Pak Nhai
Lom
Lom Primary
1
5
1m
6
Ratanak Kiri
Ou Ya Dav
Pak Nhai
Pak Touch
Pak Touch Primary
1
5
1m
7
Ratanak Kiri
Koun Mom
Trapeang Kraham
Trapeang Kraham
Chrab Pring Primary
1
5
1m
8
Ratanak Kiri
Bar Kaev
Leu Khuon
Leu Han
Leu Han Primary
1
5
1m
9
Ratanak Kiri
Ou Chum
L'ak
Kralong
Kralong Primary
1
5
1m
10
Preah Vihear
Choam Ksant
Tuek Kraham
Rung Roeung 1
Ou Chunh Saenchey Secondary
1
5
1m
11
Preah Vihear
Kuleaen
Srayang Cheung
Srayang
Srayang High School
1
6
1m
12
Preah Vihear
Kuleaen
Kuleaen Tboung
Kuleaen
Kuleaen Primary
1
5
1m
13
Preah Vihear
Chey Saen
Putrea
Peuk
Tuol Phtang Primary
1
5
1m
14
Preah Vihear
Chhaeb
Sralau Pir
Kampong Preah Ent
Kampong Preah Ent Primary
1
5
1m
15
Oddar Meanchey
Trapeang Prasat
Trapeang Prasat
Korki Tret
Korki Tret Primary
1
5
1m
16
Oddar Meanchey
Anlong Veaeng
Lumtong
Lumtong Thmei
Lumtong Primary
1
6
1m
17
Oddar Meanchey
Anlong Veaeng
Preah Pralay
Tram Chan
Akphivat Primary
1
5
1m
18
Oddar Meanchey
Samraong
Koun Kriel
Kouk Ampil
Kouk Ampil Primary
1
5
1m
19
Oddar Meanchey
Samraong
Koun Kriel
Samraong Saenchey 2
Samraong Saenchey 2 Primary
1
5
1m
20
Oddar Meanchey
Chong Kal
Pongro
Kouk Sangkae
Kouk Sangkae Primary
1
5
1m
* Amount including toilet, furniture, water and electricity supply.
Preah Vihear
Oddar Meanchey
Mondul Kiri
Ratanak Kiri
New Projects
Currently, the foundation is targeting two primary school buildings to be renovated and built as concrete school buildings equipping with full furniture for the classrooms in this 2018 of which one is located in Ratanak Kiri province and another is located in Oddar Meanchey province. One school building has five classrooms with two toilets. One classroom can accommodate at least 30 students.
Please kindly see the current picture of primary school below:
Ratanak Kiri Province
Oddar Meanchey Province
Ongoing Projects
Currently, the foundation is constructing two concrete primary school buildings of which one located in Kork Sangke Village, Pong Ror Commune, Chung Kal District, Oddar Meanchey Province started on December 17, 2018 and expect to finish on June 14, 2019 and another one located in Ratanak Kiri province started on February 15, 2019 and expect to complete on August 14, 2019. Each school building has five classrooms with two toilets and can accommodate at least 100 students. Please kindly find the relevant pictures below:
I. Project in Oddar Meanchey Province
(1) Site visit and assessment before selection and recruitment of Contractor
(2) Activities of relocation of existing wooden school building
(3) Activities of ground breaking ceremony
(4) Construction progress
II. Project in Ratanak Kiri Province
(1) Current school building
(2) Activities of ground breaking ceremony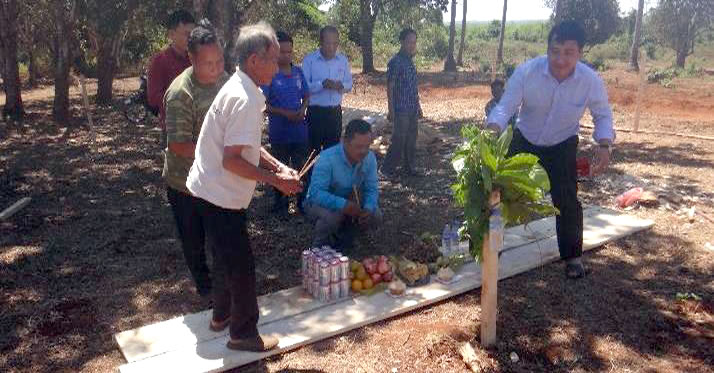 (3) Construction progress
Completed Projects

» Projects